Kevin McCarthy makes an endorsement announcement no one saw coming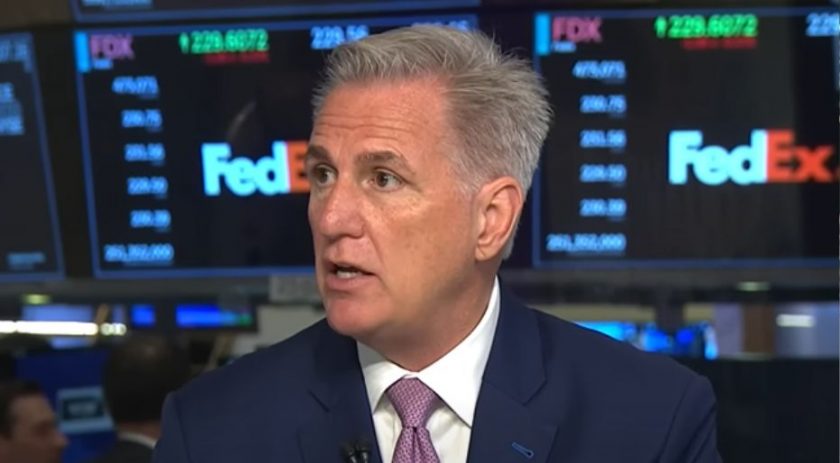 House Speaker McCarthy has played his cards close to the chest on who he'll endorse. But he just opened up for the first time.
And Kevin McCarthy made an endorsement announcement no one saw coming.
The race for the Republican candidacy for president is in full force right now.
But it's still anyone's guess who will be the victor at the end of the day.
And House Speaker Kevin McCarthy's endorsement could be the ticket any one of the candidates need to send them to the top.
On Thursday, House Speaker Kevin McCarthy (R-CA) told reporters that he is "very high" on former President Donald Trump.
When asked if he has made an endorsement for the Republican presidential primary in 2024, he answered, "I haven't made an endorsement yet."
"But," he added, "I'm very high on President Trump."
"As you know, we worked very close together, and you know how strong America was under President Trump," he explained.
McCarthy, on the other hand, expressed doubts about Trump being the best candidate for Republicans in 2024 during a television interview last month.
"The question is, is he the strongest to win the election? I don't know that answer," he said on CNBC's Squawk Box.
That evening, he suddenly reversed his position, telling Breitbart News that Trump is "stronger today than he was in 2016."
Going into the primary, the former president has received support from over 60 members of the House of Representatives.
According to Morning Consult, Trump has a 56% approval rating among possible Republican primary voters.
DeSantis, who has the support of five legislators, has 17% of the vote.
Despite Trump's double-digit lead in the campaign, concerns have arisen as a result of the former president's previous gaffes in Iowa, which holds the nation's first caucuses.
Last week, Trump confirmed suspicions of a simmering rivalry with Gov. Kim Reynolds (R-IA), a notoriously popular Republican in the state, by challenging her decision to remain neutral throughout the campaigns in a social media post.
Following that, it was announced that he would be missing the Family Leadership Summit, an important event for social conservatives in Iowa.
Trump's crew said his absence was due to a schedule difficulty. They offered to send Sen. JD Vance (R-OH) in Trump's place, but the Family Leader declined, citing the organization's policy of not accepting surrogates.
Some Republican strategists and state officials expect that his support will dwindle among Iowans as a result. The impact of his recent acts, on the other hand, remains to be seen.