Pence's shocking response to Trump supporters revealed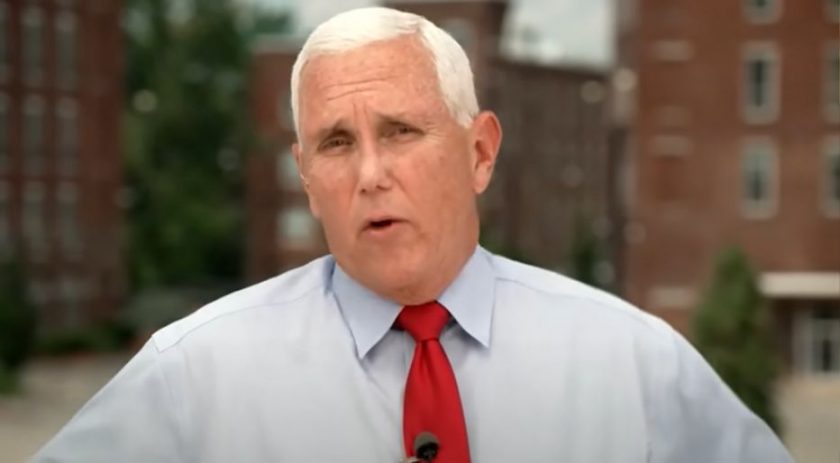 Politics are known to get nasty. Now conservatives are calling out former Vice President Pence.
And Mike Pence had a surprising reply to Trump supporters.
Over the weekend, Mike Pence responded after being called a "traitor" by Trump supporters.
It's no secret there is little love lost between Trump and Pence these days, and many RINOs consider Trump to be a traitor for his role on January 6.
At the end of last week in New Hampshire, Mike Pence was heckled in a parking lot by Trump supporters. They called out "why didn't you uphold the constitution?" Pence fired back that he "upheld the constitution." Mr. Pence was also called a "traitor."
When confronted, Pence also shot back and told the crowd to "read [the constitution]."
Watch this shocking exchange here:
A dozen Trump supporters approached Mike Pence's vehicle as he entered his Friday event yelling, "that's a traitor," "you're a sellout," and "why didn't you uphold the constitution?"

"I upheld the constitution," Pence shouted back.

As they badgered him he yelled, "Read it!" pic.twitter.com/gKpeB2mntO

— Kelsey Walsh (@Kjwalsh_news) August 5, 2023
Although many do truly consider Pence to be a traitor, his answer to that is simple.
When Pence was asked how he feels, he replied: "You know, I know in my heart of hearts, that on January 6, I did my duty, kept my oath to the Constitution of the United States."
Pence believes that as he travels and campaigns more and more, the people are seeing that he did the right thing.
In an interview on Sunday with CBS, Pence elaborates further:
Pence says: "as we travel, not only here in New Hampshire, but around the country, more and more Americans are recognizing that we kept our oath that day, and I think with this week's news I've had so many people come up to me and just express their appreciation for the stand that we took, by God's grace, to do our duty to see to the peaceful transfer of power."
Mr. Pence went on further to say "President Trump asked me to put him over the Constitution that day, but I chose the Constitution and I always will."
Do YOU think Pence did the right thing?
With the deepening political unrest in recent days especially surround Trump and his indictments, Pence's statements frustrate and anger many Trump supporters.
Instead of rallying alongside his former president, he appears to be betraying former president Trump.
A collapse within the Republican party seems inevitable.
With Pence saying he did the right thing, and Trump supporters emphatically claiming the opposite, things have started to get nasty.
One thing is certain: the actions of Pence leaves many to wonder what the future of the Republican party may be.
Stay tuned to Prudent Politics.