A U.S. Senator just gave Joe Biden a hard pill to swallow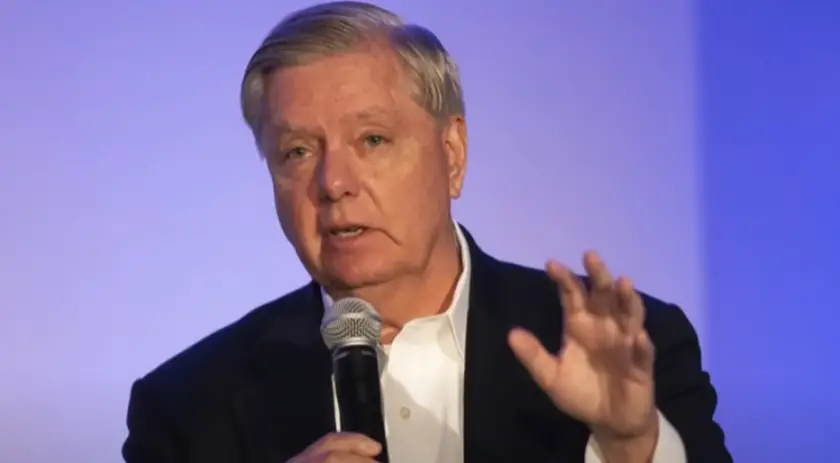 Joe Biden thought he was bulletproof because of his D.C. Swamp connections. But he's got another thing coming.
Because a U.S. Senator just gave Joe Biden a hard pill for him to swallow.
Sen. Lindsey Graham, R-S.C., claimed on Newsmax that the newest "double standard" in the processing of cases involving sensitive data is showing that America is no longer a "fair place" when it comes to the administration of the law under President Joe Biden.
Graham stated "There's a double standard when it comes to how to deal with conservatives and liberals under this administration," on Wednesday that "The Record With Greta Van Susteren." "It needs to stop."
Graham asserted to Van Susteren that Democrats virtually control the media, Big Tech, and the administration of justice.
Graham claimed that "The media is complicit; social media companies need to be regulated — you know, they're an extension of the Democratic Party in many ways,"
"So, no, America is not a very fair place now when it comes to administration of the law."
According to Graham, the only appropriate response to Biden's possession of sensitive papers is the appointment of a special counsel into the office of the president given that Biden's Justice Department has designated a special counsel to look for crimes committed by his political adversary.
"The attorney general of the United States should appoint a special counsel — someone outside of politics, outside the Department of Justice hierarchy — to look into whether or not there was any wrongdoing here," Graham said. "The attorney general of the United States should do the same thing for President Biden it did for President [Donald] Trump."
"I have no idea if there was any wrongdoing, but I do know this: We can't live in a country where if you're a Republican president, they appoint a special counsel regarding how you handle classified documents. You're a Democratic vice president, now president? Nothing happens to you."
That was "an unacceptable standard" according to Graham.
"So the easy answer to this problem is appoint a special counsel to look at what happened on Biden's watch," Graham concluded.
"Do I think Trump and Biden are intentionally doing anything? No, but I do want to find out what happened in both cases; and I think a special counsel's warranted to look at what Biden did."
Lindsey Graham isn't always right, but he's right with this take.
In fact, the DOJ has already announced that Robert Hur will be the special counsel overseeing the Biden classified documents investigation.
There was too much smoke around this classified documents fire for Democrats and the Deep State to brush it all under the rug.
Americans would've been outraged to hear that President Trump would be treated one way while a sitting Democrat President would be treated differently in apparently similar cases.
What will be interesting is whether or not Joe Biden actually faces consequences for his actions.
Stay tuned to Prudent Politics.