Chuck Schumer is worried sick about what this Army veteran is about to do to him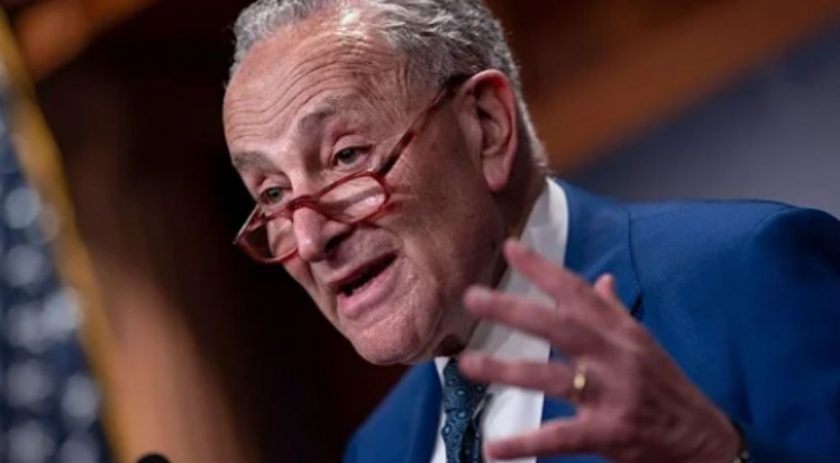 Senate Majority Leader Chuck Schumer believes he's invincible. He's about to get a reality check.
Because what this Army veteran is about to do to Schumer has him worried sick.
In just a few short months, Military vet Sam Brown has gone from political outsider to establishment darling as Republicans plan another run at gaining a Senate seat in purple Nevada.
In one of the closest contests of the 2022 cycle, the Republican party came within 8,000 votes of upsetting Democratic Senator Catherine Cortez Masto in Nevada. Former Attorney General Adam Laxalt won the Republican primary and became the nominee, defeating political novice Sam Brown.
Brown was soundly defeated, ending nearly twenty-two points behind Laxalt. Senate Republicans were looking for candidates free of the political baggage that hampered them nationally in the last cycle, and his fundraising skills and compelling personal story caught their attention.
In July, Brown declared his candidacy for the Senate again, this time against Nevada's Democratic incumbent, Jacky Rosen. Brown, who was severely injured by a roadside bomb in Afghanistan and awarded the Purple Heart for his service, aims to highlight his military experience in the same way he did in his 2022 campaign. This time around, however, he will have official backing.
Instead of taking a hands-off approach like his predecessor, Sen. Steve Daines (R-MT), head of the National Republican Senatorial Committee, actively sought out people like Brown to run for office this season.
They've focused a lot of their efforts thus far on flipping Democratic-held seats in places like Montana and West Virginia, which voted for Trump in 2016. Daines considers Ohio to be a must-win, but he is confident that any of the GOP candidates might prevail in a general election next year, so he is staying out of the primary there.
Democrat Rosen defeated Republican Dean Heller in 2018 to become Nevada's first female senator. However, Republicans are confident Brown has the ability to succeed where Laxalt failed.
Sen. John Barrasso (R-WY), the third-ranking Republican in the Senate, has remarked, "I think we have a real opportunity to pick up the seat there."
The party's top brass isn't hiding the fact that they're rooting for Brown. Daines endorsed his run the day he announced it, and Barrasso did likewise a week later.
Senate Minority Whip John Thune (R-South Dakota) urged Brown to run for office.
"I think he's a terrific candidate, a great story. He wed a girl from South Dakota. I think it just puts that race in play," he said.
Brown has an uphill battle in the primary against Jim Marchant, a failed candidate for secretary of state who echoed Trump's baseless allegations of a stolen election. However, Brown has worked to build support from the beginning of his campaign.
His group reported a first-week haul of $400,000, dwarfing Marchant's second-quarter total of $111,000.
Endorsements are an additional method of demonstrating this widespread backing. Brown has the support of Senator Marsha Blackburn (R-TN), a member of the House of Representatives' lower chamber, and Senator Lindsey Graham (R-SC) is helping with Brown's fundraising efforts.
It's conceivable that more support will come in the near future. While in Washington last week, Brown spoke with senators Markwayne Mullin (R-OK), Ted Budd (R-NC), and J.D. Vance (R-OH) individually and spoke at the weekly Republican conference lunch.
Brown gained the support of Mullin, who had not previously been on record as endorsing him, and who lauded Brown for his "selfless service" to the country.
This could be a major turning point for Republicans to storm back and take the Senate out of Democrat control in 2024.
The Democrats are already defending way more seats than the Republicans are, and that has Senate Majority Leader extremely nervous.
Sam Brown's initial success indicates he could be the man to kick Chuck Schumer to the curb from his Senate leadership role.
Stay tuned to Prudent Politics.