Chuck Schumer was floored after he read this unnerving message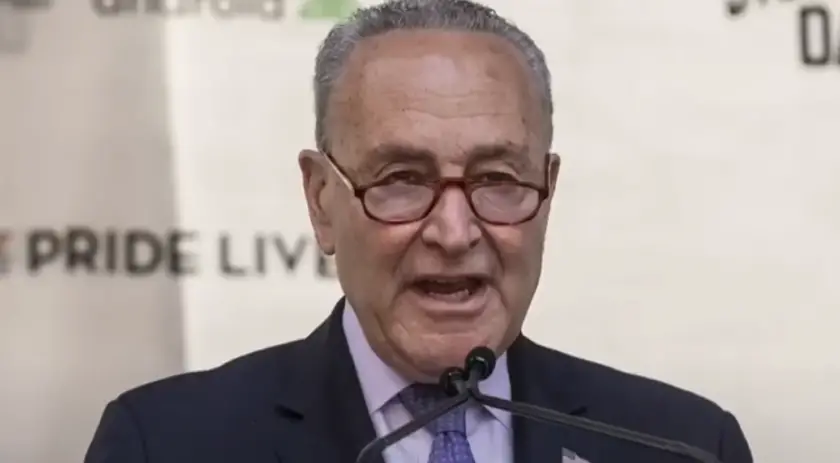 The Democrat Party is starting to crumble. Infighting threatens to boil over.
And Chuck Schumer was floored after he read this unnerving message.
There's a massive amount of anger and discontent within the ranks of the Democrat Party.
Their lead politician is an octogenarian who can't seem to act competent long enough for people to stop questioning whether he's all there mentally.
The Senate Majority Leader, Chuck Schumer, is another aging establishment politician.
Despite this, the old guard are starting to take losses.
Rep. Nancy Pelosi stepped down from her position as House Minority Leader to hand over the reins to the younger Rep. Hakeem Jeffries.
Chuck Schumer and his establishment fellows are worried to death they'll lose their grip over the party.
And the message he just received isn't exactly encouraging.
Rep. Alexandria Ocasio-Cortez has backed down from a possible Democratic primary challenge to Sen. Kirsten Gillibrand in 2024, only one month after refusing to rule it out.
The Bronx and Queens congressman, 33, is "not planning" to challenge Gillibrand, her campaign spokesman told The Post on Monday.
Politico earlier reported that AOC's colleagues left-wing Empire State representatives Jamaal Bowman and Ritchie Torres, as well as former Hudson Valley Rep. Mondaire Jones, are also passing on a Senate run.
With the field seemingly devoid of strong intra-party challenges, the 56-year-old Gillibrand has amassed backing from key Democrat-supporting interest groups.
The president of the NAACP's New York chapter, Hazel Dukes, told The Washington Post on Monday that the senator earned a "A-plus" for her efforts in Congress.
"She works hard. She's active in the community. I think she's doing a good job," Dukes said. "She's been fighting for women's rights and against sexual harassment and domestic violence. She's been strong on education and good on health issues. She's fought for veterans."
Last month, the pro-abortion organization EMILYs List re-endorsed the senator.
"Sen. Kirsten Gillibrand has always been a pro-choice champion for the people of New York and for all Americans, fighting tenaciously to protect reproductive freedom, uplift women and families, and defend against extremism," EMILYs List president Laphonza Butler said in a statement.
Keith Wright, the leader of the Manhattan Democratic Party, has also endorsed Gillibrand, who is serving her second full term in the Senate after being chosen by then-Gov. David Paterson to fill a vacancy created by Hillary Clinton in 2009.
"I'm absolutely backing Gillibrand's re-election," he told The Post. "She's doing a great job. She's got seniority. She and Chuck Schumer are the equivalent of James Brown — the hardest-working senators in the United States of America."
While this may seem like a win for Schumer and the establishment, this really shows just how weak they are.
AOC and her more radically progressive pals found out they can make Schumer and the old guard squeal.
If they can do that, they don't need to kick them out of office to get them to do what they want. They know they have all the power now.
Stay tuned to Prudent Politics.