Tragic news about Dianne Feinstein rocks Capitol Hill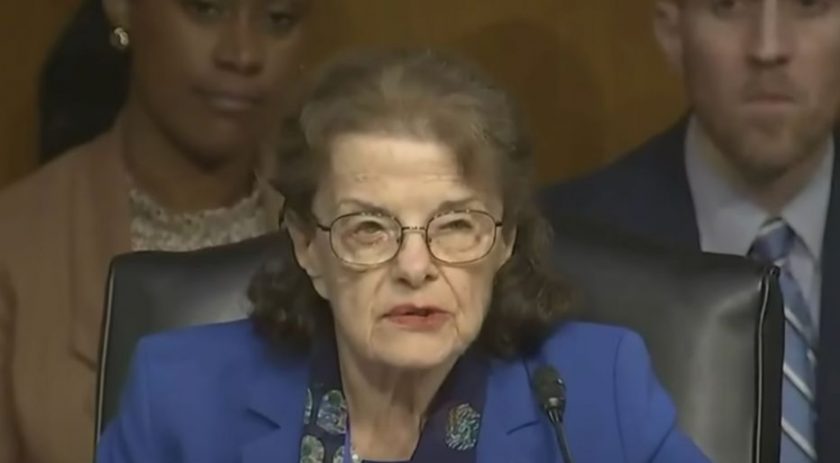 Senator Feinstein had one foot in the grave and one foot on a banana peel for a while. Something had to give.
And this tragic news about Dianne Feinstein rocks Capitol Hill.
Sen. Dianne Feinstein (D-CA) has served in the Senate for nearly 31 years and has been paid by taxpayers for all but a few years since 1970 — more than half a century.
The senator turned 90 on Thursday. You'd think the liberal media would shower her with praise, yet CNN published a lengthy report criticizing Feinstein's poor health and lack of involvement with her job.
The lead was harsh, saying, "Sen. Dianne Feinstein has grown isolated over the years from most members of her California delegation and other Democrats in her home state, feeding a discontent among allies who tell CNN they now wish for a more engaged and energetic senior senator."
According to CNN senior journalist Edward-Isaac Dovere, CNN interviewed with every California House member, and few had anything positive to say about Feinstein, whom they characterized as aloof and detached from the problems most important to state people.
"They wish she could give advice and collaborate, tackling issues proactively as an active partner in the Senate. They're bitter about it – and some also tell CNN that the situation means their constituents haven't been getting the work they elected their senior senator to do," reporter Dovere wrote.
Feinstein has been off the air for quite some time. Feinstein contracted shingles in March, which spread to her face and neck, causing eyesight and balance problems as well as facial paralysis.
The virus also caused encephalitis, a brain swelling that can cause long-term memory or language impairments, sleep abnormalities, episodes of bewilderment, mood disorders, and difficulty walking.
Feinstein returned to the Senate in mid-May in a wheelchair, with "the left side of her face frozen and one eye nearly shut, she seemed disoriented as an aide steered her through the marble corridors of the Senate, complaining audibly that something was stuck in her eye," according to The New York Times.
The senator frequently loses track of where she is. When she returned to work, reporters inquired how her coworkers greeted her, but she pretended she'd never left. "No, I've been here. I've been voting." Then she pretended to be offended. "Please. You either know or you don't."
Feinstein, who has been increasingly absent from public life over the last decade, has long been shielded by the mainstream media. But CNN went after her hard, proving that liberals no longer support her.
Dovere met with a California House member who had been "granted anonymity to speak frankly," and who stated, "The situation is very frustrating, but also very clear."
"Californians should have two responsive, active senators," the member said. "And they don't."
State voters are already sick of Feinstein; according to a recent survey, a majority believe she should quit.
According to an Inside California Politics/Emerson College poll, 63% believe she should leave and 37% believe she should stay. According to the same poll, only 22% approve of Feinstein's job performance, while 48% disapprove.
"Older voters are more likely than younger voters to say Feinstein should resign: 68% of voters over 50 think the Senator should resign compared to 58% of voters under 50 who say the same," said Spencer Kimball, executive director of Emerson College Polling.
Meanwhile, California Governor Gavin Newsom (D) is said to have launched a "soft inquiry" to fill Feinstein's seat if she retires before the end of her term in 2025.
A "person involved in the conversation" told Vanity Fair that Newsom isn't actively looking. Instead, the governor is asking: "If somehow one of California's U.S. Senate seats was vacant, would you be interested in filling it?"
Feinstein has previously stated that she will not run for re-election in 2024, hence her tenure will finish in January 2025. The question now is whether she can survive till then, with voters and the liberal media turning against her.
Stay tuned to Prudent Politics.