Chuck Schumer could lose everything after what this Democrat candidate just said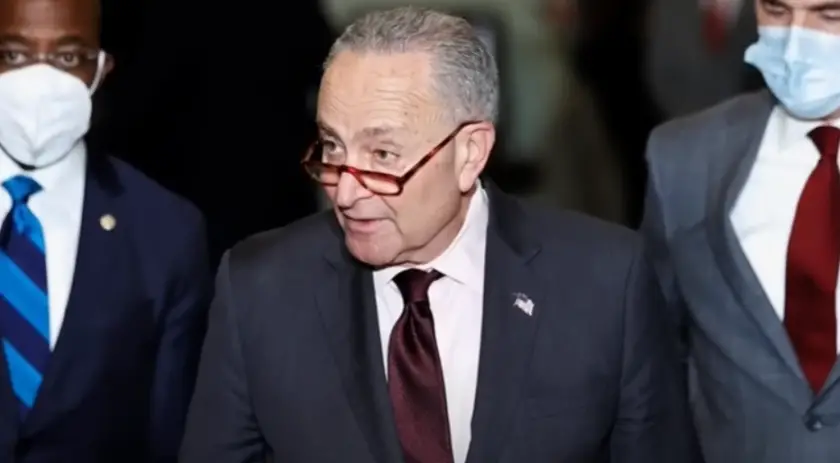 The Democrats' majority in the Senate is hanging by a thread. One battleground state has been a thorn in their side.
And Chuck Schumer could lose everything after what this Democrat candidate just said.
The outcome of the midterm elections in November may depend on Pennsylvania.
The fight for Pennsylvania's open Senate seat has turned into one of the more competitive races this autumn since incumbent Senator Pat Toomey (R-PA) retired.
Senate Majority Leader Chuck Schumer, a Democrat from New York, is all-in on the effort to flip the seat in favor of the party.
After getting former President Donald Trump's support, Dr. Mehmet Oz narrowly prevailed in a competitive Pennsylvania Republican Primary.
John Fetterman, the state's Democratic Party nominee for lieutenant governor and a supporter of Bernie Sanders
The race is on a knife's edge going into election day.
Due to Democrats' soft-on-crime policies and the state's struggles with the national crime wave, crime has emerged as one of the key topics in the election.
The Fetterman campaign is currently being plagued by a questionnaire from a left-wing organization of anti-cops individuals after being hounded by his pro-criminal history.
Fetterman sought the backing of the anti-police organization Reclaim Philadelphia during his 2018 race for lieutenant governor.
Senator Bernie Sanders' (I-VT) 2016 presidential campaign inspired the formation of Reclaim Philadelphia, which promoted cutting the city's police budget.
The group asserted that money "stolen from communities" funds the police department's budget in Philadelphia.
According to Fetterman, Larry Krasner, the city's prosecutor who is supported by George Soros, is "very excited" about the city and is opposed to "tough on crime" tactics.
Philadelphia's violent crime rate increased dramatically as a result of Krasner's lenient prosecutor's office's soft on crime policies.
From 352 homicides the year Krasner entered office in 2018 to 562 murders the following year, a roughly 60% rise.
The group was informed by Fetterman that he would use his position as lieutenant governor "as a bully pulpit for the larger issue of criminal justice reform," which is code for letting criminals escape the hook.
"There is a real opportunity to create a statewide platform that elevates and exposes the damage created by the school-to-prison pipeline, the prison industrial complex, and 'tough on crime' policies like 'Stop and Frisk' and cash bail," Fetterman said at the time in an interview with Reclaim Philadelphia.
By doing away with cash bail, violent offenders are allowed to leave custody before their cases are heard and commit new crimes.
Republicans and Dr. Oz have already attacked Fetterman for his record of being lenient toward criminal activity.
Fetterman oversaw the state's Board of Pardons and cast numerous votes to pardon murderers who had already served their sentences. He even employed a couple of them for his senate campaign.
For the struggling Fetterman campaign, this latest revelation will be even another challenge.
Stay tuned to Prudent Politics.