Michelle Obama raised everyone's eyebrows with this comeback announcement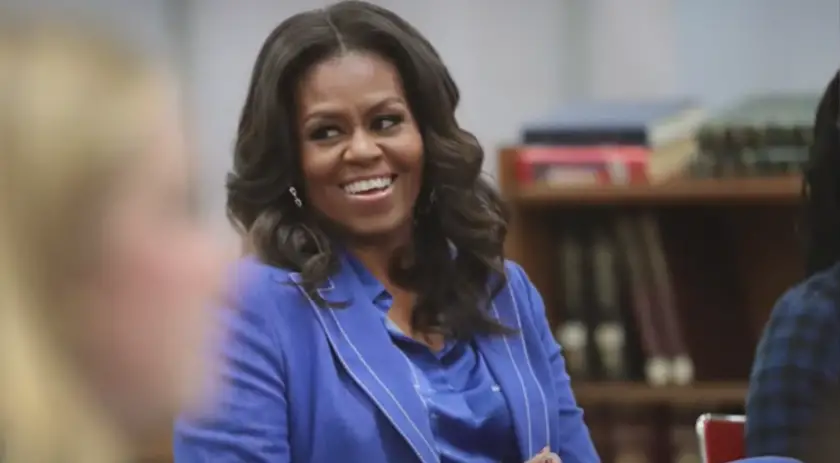 The Obama family has been out of the spotlight for a while now. But that could all be coming to an end.
And Michelle Obama raised everyone's eyebrows with this comeback announcement.
One week after the Midterm elections, Michelle Obama said that she would begin a six-city book tour to promote The Light We Carry: Overcoming in Uncertain Times.
Conan O'Brien, David Letterman, Ellen DeGeneres, and Oprah Winfrey will join Obama in serving as the event moderator.
As per Axios:
"Oprah Winfrey, David Letterman, and Ellen DeGeneres are among the celebrity moderators joining former First Lady Michelle Obama on a monthlong, six-city theater tour for her upcoming book, "The Light We Carry: Overcoming in Uncertain Times," out Nov. 15.
Why it matters: The tour, which has its own branding (above), is a sequel to an arena tour that was part of the blockbuster success of her first book, "Becoming," which sold 2 million copies in all formats in the first two weeks, and was the bestselling book of 2018.
Other moderators include Conan O'Brien, Tracee Ellis Ross, Gayle King, and Michele Norris, "Today" show co-host Hoda Kotb, poet Elizabeth Alexander and advocate Heather McGhee, AP's Hillel Italie writes.""
Some have questioned whether this is the soft launch of Michelle Obama's presidential campaign in 2024 due to the time, location, and high-profile nature of the book tour.
Polls reveal that Joe Biden is extremely unpopular and that Democrats want the Party to pick a different candidate, even though he claims he plans to seek for re-election.
Michelle Obama would consistently rank as the top pick for Democrats in a primary, according to polls.
Additionally noteworthy was the tour's setting.
After the midterm elections, Obama begins her tour in Washington, D.C.
Prospective White House contenders usually begin to seriously consider a run for office right after a midterm election.
Michelle Obama receives the most political attention by launching in Washington, D.C.
Obama's campaign then stops in the populous swing cities of Philadelphia and Atlanta before wrapping up in San Francisco and Los Angeles, two significant locations for Democratic fundraising.
In the past, Michelle Obama has stated that she has no plans to run for president.
Democrats, meanwhile, do not want Joe Biden to run and do not think Kamala Harris is capable of defeating Donald Trump.
The Party may turn to Michelle Obama, their biggest and most well-known name if Trump runs for president again and polls indicate he will defeat the other Democratic rivals.
Stay tuned to Prudent Politics.