Chuck Schumer is sweating bullets over this news coming out of Georgia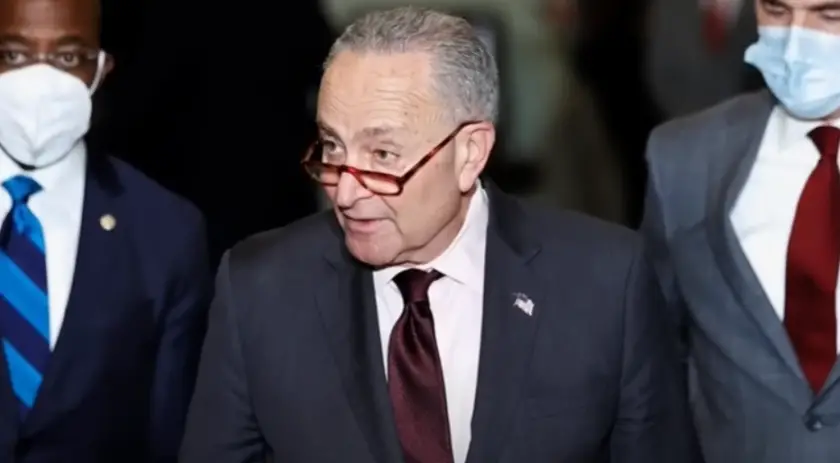 The midterm elections were a mixed bag for both major parties. But Democrats are desperate to win a 51st seat in the Senate Chamber.
That's why Chuck Schumer is sweating bullets over this news coming out of Georgia.
Democrats are still ecstatic about the 2022 midterm elections.
While the GOP did reclaim the U.S. House, it was only by the skin of their teeth; in fact, they will have a smaller majority than Democrats did prior to the election.
Democrats also picked up two governor seats in 2022.
And, owing to Vice President Kamala Harris' tie-breaking vote, Democrats are assured of maintaining control of the Senate.
There remains one U.S. Senate contest that has yet to be decided.
In the Peach State's main election, incumbent Democrat Sen. Raphael Warnock made a dramatic comeback thanks to early and mail-in ballots, leading Republican rival Herschel Walker by around 35,000 votes – or less than one point.
Warnock received 49.4% of the vote, while Walker received 48.5%.
However, in order to win an election in Georgia, a candidate must get at least 50% plus one vote.
That means Walker and Warnock will face battle in a runoff election on December 6.
The runoff affords the former Heisman Trophy winner the opportunity to rally in overtime and maintain the Senate tied 50-50.
While Democrats will retain control of the Senate in either case, a victory for the All-Pro running back would mean an equal split of Republicans and Democrats on Senate committees, giving the GOP the ability to defeat some Democrat measures before they reach the floor for a vote.
If Warnock wins, Senate Majority Leader Chuck Schumer will have complete control of committee appointments.
With so much at stake, both the Warnock and Walker campaigns are actively recruiting Brain Kemp voters.
While neither candidate received a clear majority in the Peach State Senate contest, Republican incumbent Governor Brian Kemp won re-election by 7.5 points, or around 300,000 votes, over election-denier Stacey Abrams.
If the former National Champion can sway Kemp voters who voted for Warnock the first time, he could pull off an upset victory in overtime on December 6.
Kemp, for one, is attempting to assist his partymate.
The Governor has produced a commercial for Walker, which was first broadcast around the state over Thanksgiving.
The commercial is part of the Senate Leadership Fund's $14.2 million television, radio, and digital advertising campaign.
Kemp's ad begins with a footage of reporters asking President Biden if he will alter anything in the next two years, to which Biden responds, "Nothing, I'm not going to change anything fundamentally."
"Families are struggling because of Biden's inflation, and Washington won't change unless we make them," Kemp notes in the advertisement. "Georgia is doing better than the rest of the country because we stood up for hard-working families. Herschel Walker will vote for Georgia, not be another rubber stamp for Joe Biden. That's why I'm backing Herschel, and I hope you'll join me in voting for him too."
Given their divergent connections with former President Donald Trump, Kemp's backing for Walker's campaign is intriguing.
Walker was an early fan of Trump.
Whereas the 45th President of the United States fought tirelessly to defeat Kemp in the Republican primary, which Kemp handily won.
Republicans are expecting that a Kemp-Walker combination will result in a touchdown drive in the dying minutes of the game.
According to a new AARP poll, the incumbent has a 4-point lead over the former Georgia Bulldog.
Walker received 47% of the vote, while Warnock received 51%.
However, Warnock's advantage is within the survey's abnormally large 4.4-point margin of error.
The Georgia U.S. Senate runoff is on Tuesday, December 6, however even in the runoff, early voting and absentee voting began on November 28.
Stay tuned to Prudent Politics.