Marjorie Taylor Greene just eviscerated one Biden official with one simple move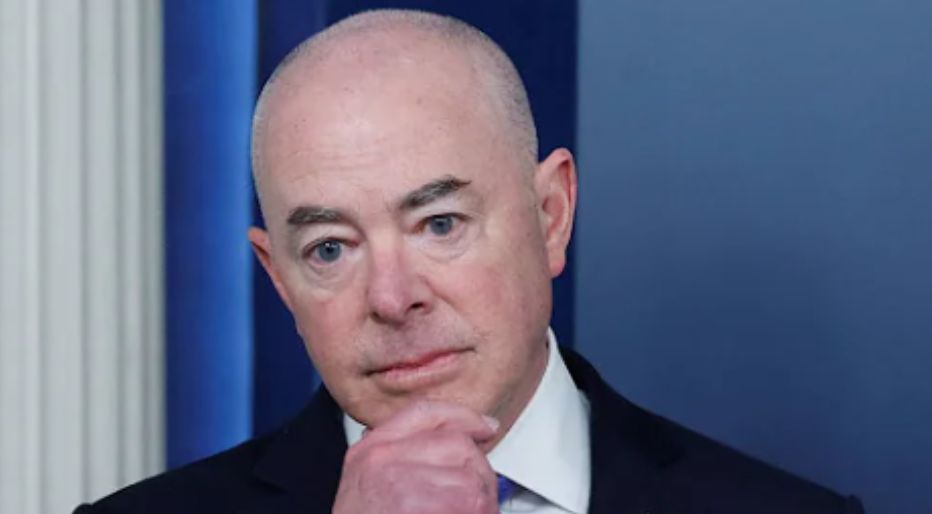 Biden's cabinet is filled with incompetent jokers. Now they're being exposed for what they truly are.
And Marjorie Taylor Greene just eviscerated one Biden official with one simple move.
Two days after her failed impeachment attempt against Alejandro Mayorkas, Rep. Marjorie Taylor Greene informed the Homeland Security secretary that he is still in jeopardy and will face another vote shortly.
During a Homeland Security Committee hearing on Tuesday, the Georgia Republican confronted the secretary with a photo of two of her constituents who were slain at the border by a juvenile migrant smuggler who smashed his truck head-on into theirs.
"I want you to look at these innocent Americans. "Do you see them?" she inquired.
"I do, congresswoman," he replied.
"They are dead," she said.
She then urged him not to use Monday's impeachment test vote, in which the House voted 209-201 to refer her impeachment to committee rather than hearing it immediately, as a reprieve.
"I want you to know you have a short time coming," she said. "You can honorably resign or we are going to impeach you and it's happening very, very soon."
Eight Republicans voted with Democrats on Monday to torpedo Ms. Greene's impeachment attempt. He would have been the first sitting Cabinet official to be impeached in history.
Mr. Mayorkas is still being investigated by House committees for "dereliction of duty," which could lead to another impeachment effort in the future.
Texas Republican Rep. Michael McCaul blamed Mr. Mayorkas for the border instability and rising death toll.
"I would argue you've been aiding and abetting the deaths in a criminal enterprise that has occurred in this nation," said Mr. McCaul, a former federal prosecutor.
Mr. McCaul was out of limits, according to New York Democrat Rep. Dan Goldman. For one thing, he argued, there has to be intent behind assisting and abetting, which Mr. Mayorkas did not have.
"Whether you disagree or not with Secretary Mayorkas' approach of dealing with the border, to accuse him of aiding and abetting a crime is very serious and I think unwarranted in this situation," Mr. Goldman said.
Mr. McCaul stated that he lives near the border and has never seen it this terrible. He accused Mr. Mayorkas of "dereliction of duty."
"The change of policy has created this problem," Mr. McCaul said. "He knows better."
Mr. Mayorkas and Republicans have been at odds since his appointment, not only over the border crisis, but also over their inability to get answers to their queries.
A lawmaker questioned him Wednesday if he agreed with New York Mayor Eric Adams that the influx of people will "destroy" the city.
"I'm going to answer your question that we do not underestimate the challenge at the southern border," Mr. Mayorkas replied.
"With all due respect, it's a yes-or-no question," Rep. Anthony D'Esposito, New York Republican, said.
"I've answered that question," Mr. Mayorkas countered.
Mr. D'Esposito next asked Mr. Mayorkas if he agreed with Illinois Governor J.B. Pritzker, who labeled the flow of migrants "untenable."
"Congressman, we work very closely with the cities to …" Mr. Mayorkas responded briefly before being stopped off by Mr. D'Esposito, who stated once more that it was a yes-or-no question.
"These are not trick questions," the congressman said.
Later, a Democrat gave Mr. Mayorkas the opportunity to respond more fully to Mr. D'Esposito.
The secretary said: "We do not minimize the significance of the challenge of the southern border. We also understand the challenge at the southern border, and the fact that it is reflective of a challenge that is gripping our entire hemisphere and, in fact, the world."
Some Republicans have claimed they have given up on interrogating the secretary.
"I'm done with you," Rep. Clay Higgins, Louisiana Republican, said. "My articles [of impeachment] have been filed and my time with you is done."
Stay tuned to Prudent Politics.