Rashida Tlaib's response to horrific tragedy has people shocked and infuriated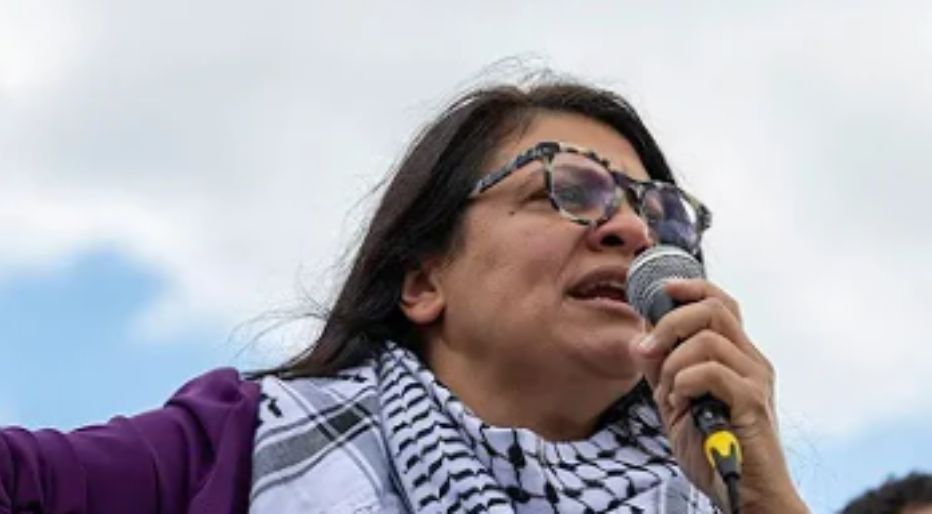 Rashida Tlaib has been in the news for all the wrong reasons recently. But this most recent reason is disgusting.
Her response to a horrific tragedy over the weekend has left people shocked and horrified.
Over the weekend in Detroit, the president of a synagogue was found stabbed to death outside of her home.
While police and politicians alike are refusing to call the attack what it is, a hate crime, people like Rashida Tlaib are taking it a step further.
The president, 40-year-old Samantha Woll, had been president of the Isaac Agree Downtown Synagogue since 2022 and was a prominent member in her community.
She had served as an aide to Rep. Elissa Slotkin and was a former campaign staffer for Attorney General Dana Nessel.
Woll was also known for founding and establishing the Muslim-Jewish Forum of Detroit.
Woll's synagogue is in the 13th district, not far from Tlaib's 12th district, and it even had once been part of the 12th district before areas were redrawn.
The media has been reporting that "police don't have a motive" for the crime even though the tragic attack had a clear motive, and this started the beginning of the outrage.
As police, officials, and politicians alike pretend to wonder over the motive, Twitter users have been quick to speculate on the issue.
BREAKING: Jewish Detroit synagogue president Samantha Woll was found stabbed to death on Saturday outside of her home.

According to the police, they found her with multiple stab wounds and a trail of blood that lead to her home.

Police currently have no motive but given the… pic.twitter.com/N170nef8dY

— Collin Rugg (@CollinRugg) October 21, 2023
According to Rashida Tlaib's Facebook page, she and Woll were "friends" yet Tlaib has been notably silent in any sort of response regarding the murder.
Tlaib has been spreading lies and anti-Semitic rhetoric since the tragic Hamas terror attacks in Israel, and people are furious that she has not responded to the murder of her "friend."
Twitter users have been quick to call out Tlaib and express their anger and one Twitter user has pointed out the obvious:
Samantha Woll, 40 years old, President of Jewish Synagogue in Detroit, stabbed to death outside her home.

If Samantha was Muslim @RashidaTlaib @RepRashida would have already accused and blamed Jews of her murder.

Samantha was also the founder of the Muslim-Jewish Forum of… pic.twitter.com/MQxicWlUWw

— Avraham Berkowitz (@GlobalRabbi) October 21, 2023
If Woll had been Muslim, the media would have been all over the story and politicians like Tlaib would have immediately been blaming Jewish people for the murder.
But instead, because Woll is Jewish, even her own "friends" are refusing to call the attack what it is and condemn those who committed the atrocious act.
"I point my finger at @RepRashida Tlaib for spreading a blood libel against Israel & Jews" I told @FoxFriendsFirst.
Now, Jewish member of Tlaib's district—the president of a synagogue—Samantha Woll was found stabbed to death. pic.twitter.com/wdgy4wpaSe

— Ellie Cohanim (@EllieCohanim) October 21, 2023
People are also drawing comparisons to the murder of Wadea Al-Fayoume and how it was immediately labeled as a hate crime, yet people are refusing to do so now that the roles are reversed.
This.

The Islamophobic murder of Wadea Al-Fayoume was rightly condemned as a horrifying hate crime, and the family got a call from the President.

The antisemitic murder of Samantha Woll was largely met with shrugs. https://t.co/ASSuBtuuio

— Noah Smith 🐇🇺🇸🇺🇦 (@Noahpinion) October 22, 2023
The American people need to hold politicians accountable and people like Tlaib should not be allowed to serve in public office when it is so clear that they do not care about the people.
Stay tuned to Prudent Politics for more updates on this breaking story.