Ron DeSantis just exposed a disturbing plot that has Democrats panicking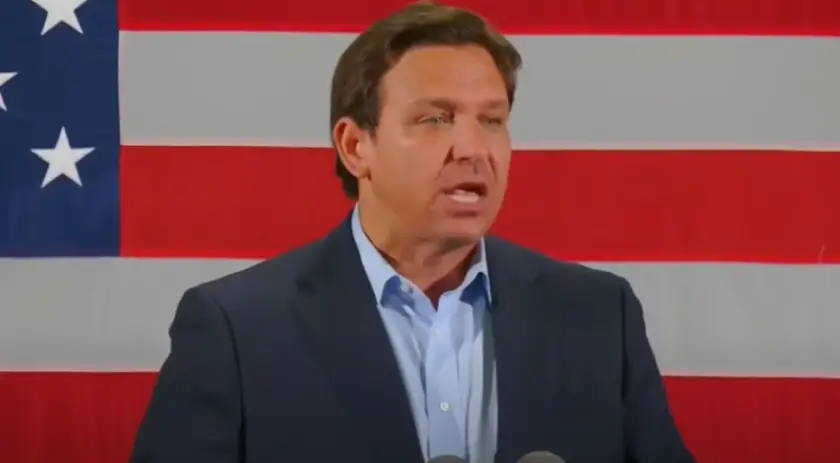 Florida Governor Ron DeSantis is not afraid to take on difficult battles. But he might have gotten himself into his largest one yet.
That's because Ron DeSantis just exposed a disturbing plot that has Democrats panicking.
China has been secretly purchasing land all throughout the United States at an alarming rate.
Chinese nationals and companies linked to the Communist Chinese government have purchased billions of dollars in American real estate.
According to state records, JOINN Laboratories CA Inc. paid $5.5 million for 1,400 acres of farmland in Levy County, Florida.
The company is a subsidiary of JOINN Laboratories, a Chinese medicine company whose founders have close ties to the Communist Chinese military.
The transaction quickly became one of the largest Chinese purchases of American land in recent memory.
JOINN Laboratories CA Inc. claims it will use the newly acquired funds to build a primate breeding and quarantine facility.
However, Florida Republican Governor Ron DeSantis is seeking to prevent Communist China and other hostile nations from purchasing land in Florida.
According to DeSantis' office, the proposed primate facility is the type of procurement that the Florida Governor opposes.
"The Governor has been consistently opposed to the Chinese Communist Party's (CCP) growing influence in Florida, and this proposed facility is a prime example of the type of activity that we are acting to prohibit," the Governor's office stated.
Governor DeSantis unveiled a slew of legislative ideas and executive steps aimed at preventing Communist China and other "countries of concern" from acquiring a foothold in Florida.
The measure "will curtail the nefarious intentions" of hostile foreign governments in Florida real estate, cyberspace, and academics, and will prevent hostile countries, like as Communist China, from purchasing farms – or any land – near military stations.
Chinese corporations have come under fire for making large land purchases near military bases that may be used for espionage.
"[Chinese companies] pay a lot more than [the land is] worth; that's why people are doing it," DeSantis said at a press conference announcing the legislation. "From a national security perspective, is that something that we wanna see?"
For years, the Chinese Communist government has utilized Chinese enterprises to enhance its spy operations abroad.
"A lot of times, there'll be companies that will put themselves out as private, but if you peel back the onion a little bit, they're basically controlled by the Chinese government," Governor DeSantis added. "We think that's something that the U.S. as a whole needs to take much more seriously."
JOINN Laboratories' founders graduated from China's Academy of Military Medical Sciences, which was blacklisted from US trade in 2021 for funneling biotechnology to the Chinese Communist military.
Ron DeSantis is leading the way nationally by laying out a strategy for countering Communist China's expanding influence.
Stay tuned to Prudent Politics.