Ron DeSantis left everyone speechless when he spoke these eight words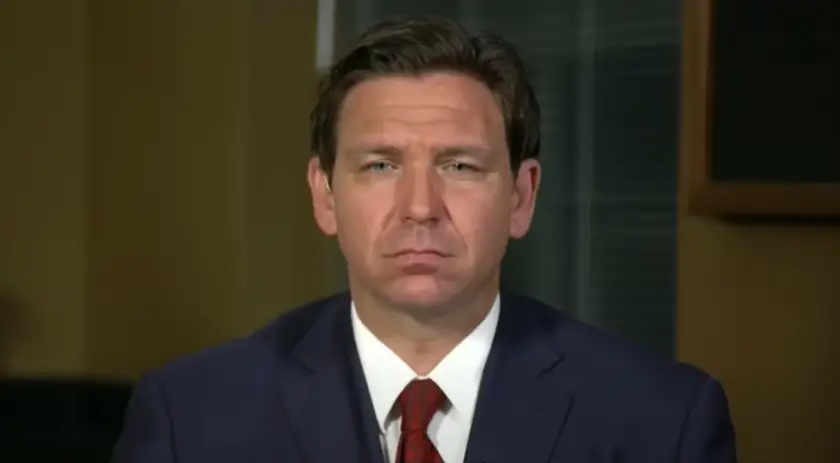 Florida Governor DeSantis has never been one to pull any punches. And it's never been more clear.
That's why Ron DeSantis left everyone speechless when he spoke these eight words.
Ron DeSantis has become a rockstar in the conservative movement in America.
Thanks to his no-nonsense approach to governing the state of Florida, he has propelled himself into a front-running position for the Republican presidential nomination in 2024.
Just take a look at his record. He refused to cave to the federal government's authoritarian COVID regulations and his administration has slashed taxes for the average Floridian.
But DeSantis just made headlines after making some "controversial" comments to the mainstream media.
In the wake of Hurricane Ian destroying countless homes and the lives of Florida residents, DeSantis shot out a warning to anyone who wanted to take advantage of his citizens.
In a press conference on the state of the recovery, DeSantis pointed out that the state of Florida had made arrests in connection with looting linked to multiple illegal immigrants.
The governor said he likes to drag these illegals "out by the collars" and "send them back to where they came from."
"We've had four looters that were arrested … and they need to be brought to justice," DeSantis said during an update on the impact of historic Hurricane Ian.
"But you know, three of the four are illegal aliens," said DeSantis, one Republican governor making headlines for sending border-crossers to Democratic sanctuary destinations.
"And so these are people that are foreigners, they're illegally in our country — and not only that, they tried to loot and ransack in the aftermath of a natural disaster," DeSantis went on.
"I mean, they should be prosecuted, but they need to be sent back to their home country. They should not be here at all," he said.
"If I could, I would take those three looters, I would drag them out by the collars and I would send them back to where they came from," he again said, garnering a round of applause.
DeSantis' speech brings to the forefront the fact that the Biden administration has deliberately endangered every American.
Thanks to Biden's open-border policy, over four million illegal immigrants, have poured over the border since his inauguration.
And they are costing Americans nearly $200 billion every single year to finance their abuse of welfare and other social services.
Not only that, but they are bringing thousands of pounds of deadly drugs like Fentanyl to the streets of America and victimizing Americans with their crimes.
But instead of addressing these issues, Biden would rather ignore the issue and focus on trying to remember his name – or whatever his handlers have him preoccupied doing every day.
On the flip side, DeSantis has paved a constitutional conservative approach that puts America first.
And that's why he's a frontrunner for president in 2024.
Stay tuned to Prudent Politics.