Top Republican candidate smacked with a sobering reality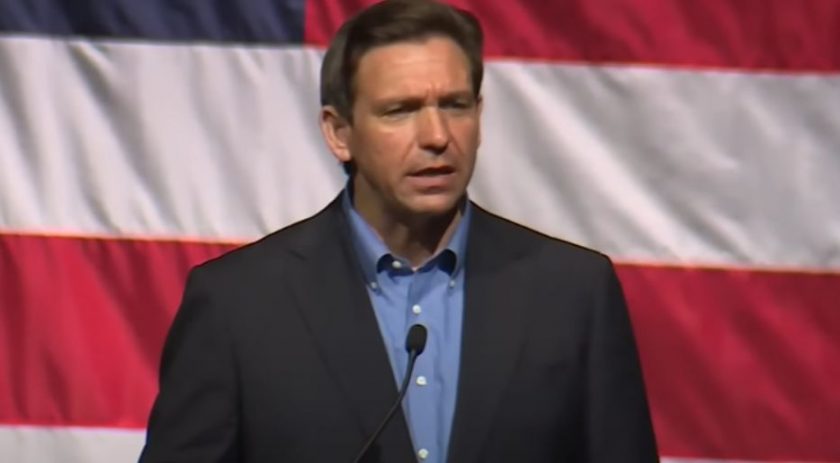 The race for the Republican nomination is heating up. Major players are starting to get burned.
And top Republican candidate smacked with a sobering reality.
If you've been following the race to the White House, you know that the main fight has been between Donald Trump and Ron DeSantis.
DeSantis, the conservative Governor of Florida, made waves after winning a sweeping victory in the 2022 midterms.
Meanwhile, Trump has been punching down at DeSantis to squash any threat of him taking his nomination. Trump, unsurprisingly, has been very successful.
And now it's reflecting in the poll numbers.
According to a poll released Monday, the majority of Republican primary voters indicated they would not support a GOP presidential candidate who waged a fight against "woke" ideas.
The New York Times/Siena College poll indicated that "wokeism" was not a top priority for voters in the 2024 election, which largely affects Gov. Ron DeSantis (R-FL).
Only 24% said they'd vote for someone "who focuses on defeating radical 'woke' ideology in our schools, media, and culture," while 65% said they'd vote for someone "who focuses on restoring law and order in our streets and at the border."
Furthermore, 38% of possible Republican primary voters stated they want a candidate "to fight corporations that promote 'woke' left ideology."
I know my feed is all this NYT poll, but cannot stop finding 👀 highlights. Fighting woke corporations, probably DeSantis' top issue, is somehow a loser among Republicans — via @besttrousers pic.twitter.com/oFResL5mfE

— Benjy Sarlin (@BenjySarlin) July 31, 2023
52%, on the other side, feel the Republican candidate "should stay out of deciding what corporations can support."
According to the poll's results, it seems like one of DeSantis's major issues may hurt his chances in the primary election.
In the last two years, Florida's governor has built a reputation for himself by battling "wokeism" in the state's public education system and the Walt Disney World Resort.
DeSantis introduced legislation in Florida to demolish the doctrine, namely the Stop WOKE Act, which prohibited schools and corporations from endorsing critical race theory.
He also chastised Disney for opposing the state's Parental Rights in Education Act, which prohibits public school instructors from discussing children's sexual orientation or gender identity.
In the midst of its fight with the state government, Disney sued DeSantis earlier this year, prompting Florida to file a countersuit.
DeSantis has recently struggled to connect with Republican voters. As a result, in order to compete with former President Donald Trump in 2024, he has had to alter his campaign plan.
It remains to be seen whether DeSantis can persuade voters in the first presidential debate of the Republican primary season next month. The debate will take place on August 23 in Milwaukee, Wisconsin.
From July 23 to 27, the New York Times and Siena College polled 1,329 registered voters, with an oversample of 818 probable Republican primary voters. The margin of error for all registered voters is 3.67 percentage points, while among GOP voters it is 3.96 percentage points.
Stay tuned to Prudent Politics