Mitch McConnell was booed off stage for this humiliating reason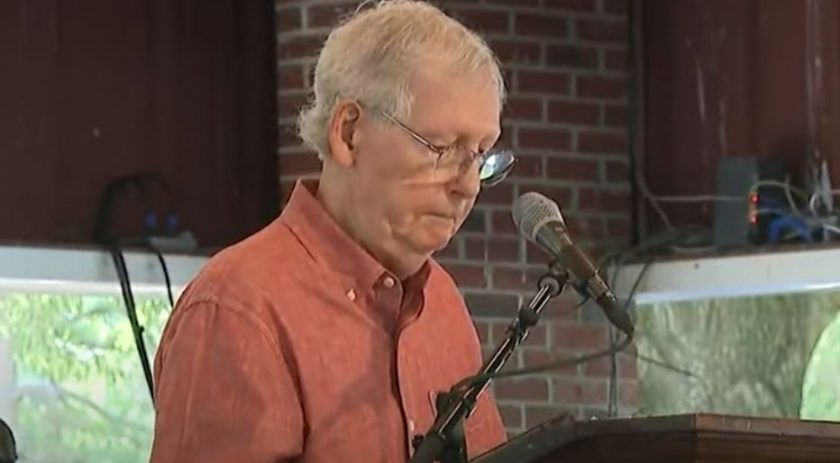 Senator McConnell is worse for wear. His failing health have led many to question if he's fit to lead.
And Mitch McConnell was booed off stage for this humiliating reason.
During the 143rd annual Fancy Farm Picnic in Kentucky, Senate minority leader Mitch McConnell began to address the crowd, but quickly found himself facing a storm of voices.
The mood quickly shifted from fun to frustration.
WATCH: Mitch McConnell gets heckled by crowd during his speech for 5 MINUTES STRAIGHT.

Chants of "RETIRE" and "Ditch Mitch" completely drown him out.

TOTAL HUMILIATION pic.twitter.com/QV3pBm1dIF

— Benny Johnson (@bennyjohnson) August 7, 2023
He also encountered a chorus of disapproval as he shared with the audience his enthusiasm for returning alongside his wife, Elaine, to the picnic.
The event, containing a bipartisan lineup of nearly 20 Democratic and Republican speakers, is a kickoff for the upcoming fall campaign season.
"My friends, I'll be honest, it's not hard for Republicans to look good these days," remarked Mr. McConnell, even amidst the uproar of disapproving voices from the crowd.
During his speech, McConnell did not leave his script and failed to address national issues, meaningful political concerns, or even Donald Trump, who this weekend has described McConnell at an event in South Carolina as "perhaps the worst leader in the history of our country running the Senate."
The echoes of McConnell's falling out with former President Donald Trump were also present, with Trump mocking the Senate minority Leader in a post on his Truth Social platform. "I AGREE!" wrote Trump, a 2024 Republican presidential candidate.
The former president also urged him to "step up and do something" to help him fight his recent legal battles.
McConnell instead focused on "easy" topics like the rise in pork prices and the Democrats who "turned their backs on rural America."
Even though the jeers and yells from the crowd were impossible to ignore, the Senate minority leader refused to acknowledge them and instead went on with his speech. He criticized the current Kentucky Governor, Andy Beshear (D), for his handling of COVID-19 and the restrictions on small businesses.
Although McConnell appeared unfazed by the crowd, the sentiment is shared across American politics. One spectator summed up the sentiment, saying, "We've entrusted our representatives with the responsibility to serve our interests. When those interests are neglected, it's our duty to make our voices heard and demand accountability."
And it's not only Mitch McConnell. The heckling is just a taste of the much wider call surrounding representation, responsibility, and the demands of average American.
The chants of "retire" and "ditch Mitch" symbolize a call for elected officials to be held accountable to their voters.
Just weeks before the picnic, McConnell was giving a routine press conference when he froze and stared off into the distance. He did not speak again and had to be escorted away by nearby staffers.
Sen. Mitch McConnell said he's "fine" after pausing abruptly during a press conference Wednesday. https://t.co/0YQ8PPp2by pic.twitter.com/0Js3PnFfb1

— Newsweek (@Newsweek) July 26, 2023
Mr. McConnell has tried to make light of the incident, saying that he was "sandbagged," a reference to President Joe Biden's tumble on stage during graduation at the United States Air Force Academy in June.
In addition to his incident at the press conference, there have also been reports of a recent fall just weeks before. Sources have further verified that McConnell fell while disembarking from a plane at Ronald Regan Washington National Airport earlier that month.
Even though McConnell did not sustain any injuries and resumed work as normal that day, the frustrations mount as we seem to be lead by incompetent and incoherent political elites.
Stay tuned to Prudent Politics.