Biden makes a complete fool of himself in this primetime speech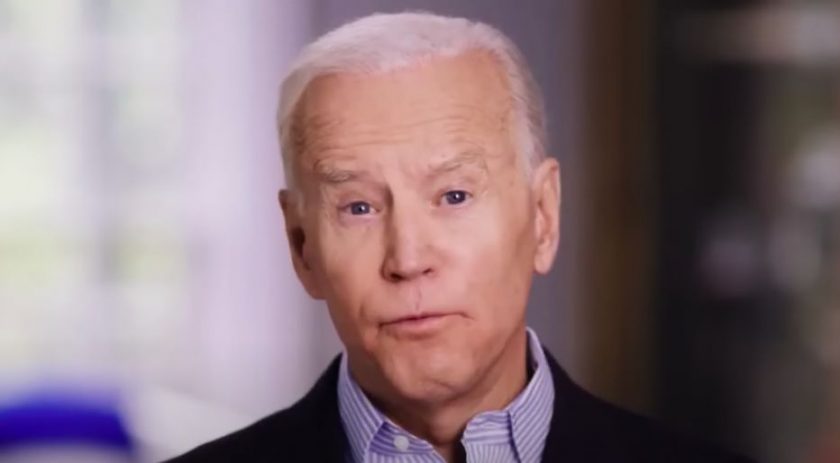 Joe Biden can't seem to stop making cringy gaffes. It's almost as if the lights are on but nobody's home.
And Biden made a complete fool of himself in this primetime speech.
President Biden has history of lies and mistakes in private and public conversations that would make anyone blush.
Who could forget when he randomly nibbled on his wife's finger during a campaign stop in 2019:
Joe Biden munches wife Jill's finger at Iowa campaign stop https://t.co/5bvb3iXS6t pic.twitter.com/w4waY8GykM

— New York Post (@nypost) December 1, 2019
Or when he made the outrageous claim that African Americans voting for Trump meant "you ain't black":
"If you have a problem figuring out whether you're for me or Trump, then you ain't black."

Joe Biden's comments during interview with Charlamagne tha God has provoked some reactions: https://t.co/MkYdhJJYXspic.twitter.com/YQ0FaxUW43

— Complex (@Complex) May 22, 2020
Well good 'ol Joe is at it again, but this time it's failing at basic spelling.
President Biden misread the number "eight" during a speech about economic issues in suburban Maryland on Wednesday, just after claiming that his father "never went" to college.
"We have a thousand billionaires in America. You know the average tax rate they pay? Eight — E-I-G-H percent — 8%," Biden said during a visit to a facility of the International Union of Operating Engineers in Accokeek, fewer than 20 miles from the nation's capital.
The 80-year-old president's error brought to mind other embarrassing political spelling gaffes, such as former Vice President Dan Quayle changing a 12-year-old student's correct spelling of "potato" to "potatoe" at a 1992 spelling bee.
Biden's speech centered on criticizing House Republicans' proposed budget cutbacks, who released legislation raising the debt ceiling by $1.5 trillion on Wednesday afternoon as an apparent opening offer to Biden ahead of anticipated discussions.
The president also chastised Republicans aligned with former President Donald Trump's Make America Great Again movement for proposing to cut the FBI's budget due to alleged political bias, suggesting that it could be because the bureau "maybe arrested some of them," a clear reference to Capitol rioters on Jan. 6, 2021.
Biden also relayed dubious personal material while speaking, telling the blue-collar crowd that he can identify to them.
"My dad never went to college. My dad was a decent, honorable man who busted his neck," the president said.
However, according to a 2020 story in the York (Pennsylvania) Daily Record, Joe Biden Sr. spent one year at the elite Johns Hopkins University in Baltimore, citing a 1941 newspaper announcement of his marriage to the future president's mother.
"Mr. Biden is a graduate of St. Thomas High School and attended Johns Hopkins University. He is a salesman for the American Oil Company," the vintage clipping said.
Oh, Joe, will you ever tell the truth?
Stay tuned to Prudent Politics.