Chuck Schumer just exposed Mitch McConnell's strategy to betray conservatives in Congress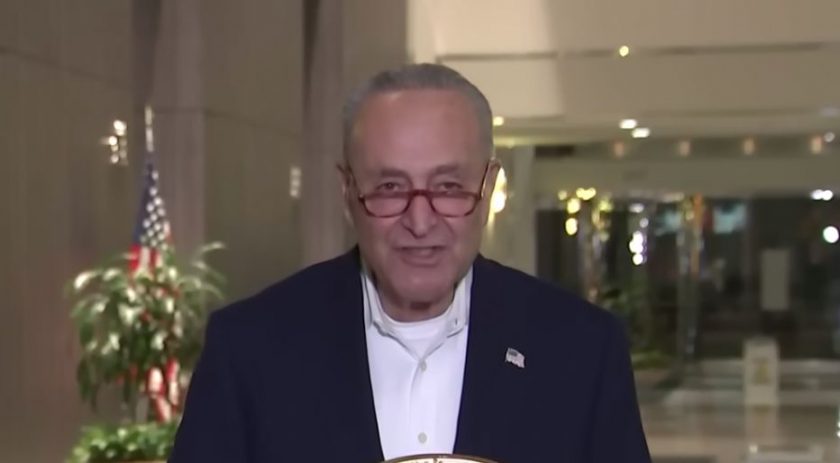 Mitch McConnell has a lengthy history of betraying conservative voters in back room deals with Democrats. He will go to any length to stay in power.
And Chuck Schumer just exposed Mitch McConnell's strategy to betray conservatives in Congress.
Despite Democrats holding a razor-thin Senate majority during Joe Biden's first two years in office, Senate Minority Leader Mitch McConnell (R-KY) failed to utilize his clout against Senate Majority Leader Chuck Schumer (D-NY).
Senator McConell cashed in on socialist spending sprees on left-wing special interests, the Green New Deal, and corporate assistance.
He even delivered President Biden a big victory by striking a compromise with Senator Schumer to enact the nation's largest gun control law in about 30 years.
However, in the coming weeks, McConnell appears to be going to deliver Democrats yet another significant triumph on even more socialist spending sprees, which just so happened to be the root of the present inflationary crisis hitting working-class Americans.
Senator Schumer previously stated on CNN that he planned to "sit down with Mitch McConnell" behind closed doors to discuss how Democrats would go about forcing even more of Biden's hardline socialist agenda through.
According to the Majority Leader's most recent Senate floor address, that secret meeting has already occurred, deals have been struck, and Democrats are in the midst of a frenzied effort to enact as much of their socialist program as possible before Republicans take over the House in late January.
After 12 Republicans defected and sided with Democrats, the Senate passed a bill requiring the recognition of gay marriage on Tuesday.
Senator Schumer hailed RINOs who sold out and voted to force same-sex marriage on the country during a floor speech on Wednesday morning.
RINOs, according to Schumer, are ready to negotiate even more deals and "continue working together on difficult issues in the next Congress."
"I hope that yesterday's vote is a signal that both parties can keep working together on difficult issues in the next Congress," Schumer said. "If our Republican colleagues can shake off the MAGA wing of their Party that is holding Republicans down, we can get a lot done. And it's obvious to everyone there are many Republican Senators who don't embrace MAGA."
"We want to keep working with you," Schumer said of the RINOs.
The Senate Majority Leader then revealed that he and Mitch McConnell had already met behind closed doors to arrange the next RINO surrender – another omnibus budget bill to prevent the federal government from running out of cash and shutting down in two weeks.
"Though we have different views of what should be in it, both Leader McConnell and I have said that an omnibus is the best way for supporting our troops, supporting our allies in Ukraine, and keeping Americans safe at home and abroad," Schumer added.
Senator Schumer claims that Senator McConnell has decided to buckle and accept whatever big spending bill Democrats put forward in the next two weeks, regardless of what it contains or the impact it has on inflation.
Mitch McConnell is busy stabbing conservatives in the back rather than fighting Joe Biden's socialist agenda.
Stay tuned to Prudent Politics.