Mitch McConnell lost his mind after being hit with these words from a leading Republican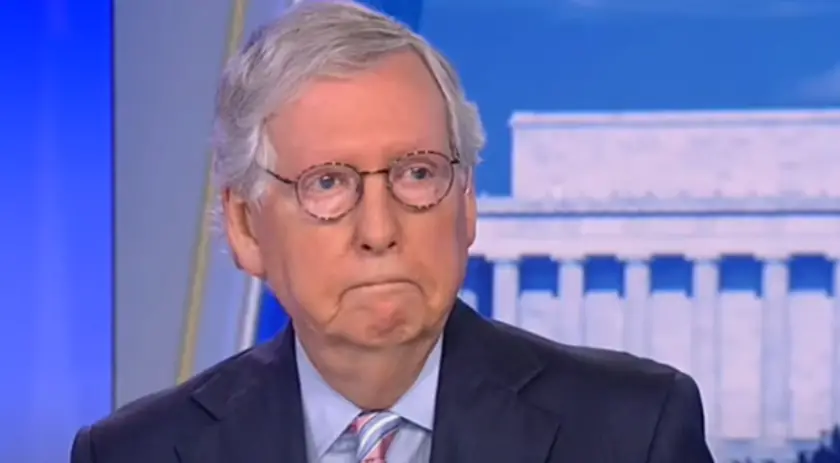 Mitch McConnell is a major reason the GOP fared so poorly in the midterms. But the fallout from his blunders is just getting started.
And Mitch McConnell lost his mind after being hit with these words from a leading Republican.
Senate Minority Leader Mitch McConnell (R-KY) is attempting to retain his position as the country's top Republican. Senate.
Control of the Senate remains uncertain following a disastrous midterm election.
Senator McConnell is losing what little support he has among conservatives, whether he serves as Minority Leader or Majority Leader.
Senate conservatives are growing increasingly dissatisfied with McConnell's failing leadership of the Senate GOP.
Now, two Republicans are saying it's time to move on from Mitch McConnell.
Missouri Republicans Senator Josh Hawley (R-MO) and Senator-elect Eric Schmitt (R-MO) have spoken out against Senator McConnell's re-election as Senate Majority Leader.
Senator Hawley informed a group of reporters at a Schmitt campaign rally in Springfield, Missouri, before the midterm elections, that he will not vote for the Kentucky Senator to continue as Senate Republicans leader.
"I don't imagine I will, no," Hawley said of supporting McConnell in Senate Republicans' upcoming leadership elections.
At the moment, no Republican Senator has formally declared a frontal challenge to McConnell's leadership.
"I'm not sure if any other Senator will run or not," Hawley said. "Nobody's indicated they would. But my view is that we need new leadership in that position."
When asked who should be the next Republican Senate leader, Senator Hawley simply stated, "Not Mitch McConnell."
Eric Schmitt, a fellow Missouri Republican and now Senator-elect, campaigned on the promise that he would challenge McConnell for leadership.
When asked who he would back instead, Senator-elect Schmitt suggested Senators Ted Cruz (R-TX) or Mike Lee (R-UT), both conservative Senate champions, would be better choices.
"Mitch McConnell hasn't endorsed me and I don't endorse him for leadership," Schmitt said in July.
Schmitt held firm on his words when asked how he would vote in the next leadership race.
Schmitt told reporters, "I said what I said, and I stand by those comments."
While no official challenger to Senator McConnell has emerged, Senator Rick Scott (R-FL), who served as Chair of the National Republican Senatorial Committee and was credited with playing a significant role in boosting Republican Senate candidates McConnell abandoned in the Midterms to avoid further GOP losses, could be poised to do so.
During an appearance on NBC's Meet the Press, Senator Scott declined to endorse Senator McConnell for leadership.
Before Election Day, Chuck Todd, the host, asked Scott if he planned to seek for leader if Republicans secured a majority.
"I'm not focused on anything except getting a majority Tuesday night," Scott replied.
Todd called Scott's response a "non-answer."
"It's a possibility," Todd speculated, and Scott agreed.
For months, rumors have circulated that Senator Scott has a good chance of unseating McConnell as Republican Senate leader.
Donald Trump has spoken out vehemently against McConnell being re-elected as Senate Majority Leader, even suggesting that Rick Scott would be a better choice.
"This guy does not deserve to continue to be a leader and hopefully somebody's going to challenge him," Trump said in a radio interview. "But I'll tell you, if I run, and if I win, he will not be leader."
Following a disastrous midterm election, Republican resistance to Mitch McConnell's continued control of Senate Republicans is mounting.
Stay tuned to Prudent Politics.