Karine Jean-Pierre humiliated Joe Biden with this slip of the tongue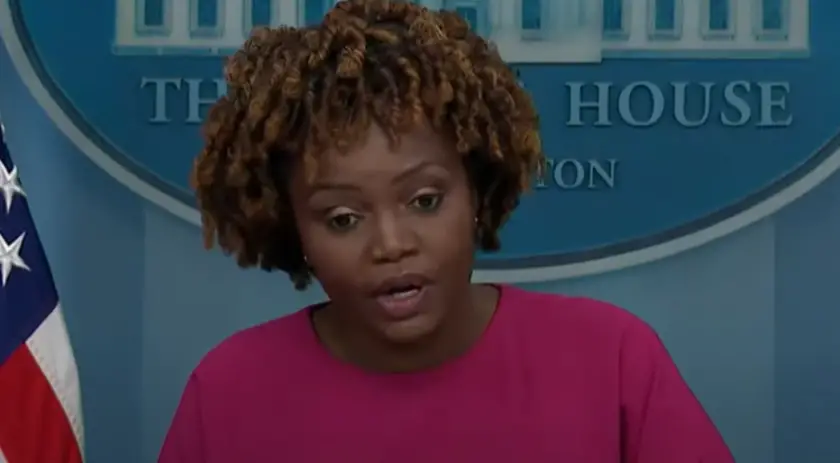 Press Secretary Jean-Pierre has been an embarrassment for the White House. Her sidestepping and lies aren't even believable.
And now Karine Jean-Pierre humiliated Joe Biden with this slip of the tongue.
It seems like the world is crashing down around Joe Biden.
His foreign policy has pushed us closer to World War III with Russia and has allowed China to get a further foothold around the world.
His domestic policy has allowed millions of illegal immigrants into the country while Americans deal with constant inflation.
On top of that, most Democrats are hoping they get someone else as their nominee in 2024.
Now he has natural disasters in the form of the Canadian wildfires choking American cities to worry about.
Never one to miss an opportunity to use a crisis for political points, the Democrats are blaming wild fires on, you guessed it, climate change.
The White House press secretary, Karine Jean-Pierre, claimed the Canadian wildfires, which have caused record-low air quality in many parts of the northeast, are the product of a "climate crisis."
#HappeningNow Press Secretary Karine Jean-Pierre:

"Climate Change a top priority" in light of Code Red air quality conditions in NE from Canadian wildfires.

Biden to meet with EU Sec Gen Jens Stoltenberg Monday.@OANN pic.twitter.com/xrUmQ1JDec

— Chanel Rion OAN (@ChanelRion) June 7, 2023
Winds have brought bad air quality from Canadian wildfires into the northeast since Monday.
"As of Wednesday, Canada was on track to experience its worst wildfire season ever, with officials reporting more than 400 active fires, with more than 240 listed as 'out of control'" the Washington Post reported.
The air was so dense with harmful particles that it was felt as far away as Florida, making the skies drab and orange.
According to Breitbart News, various locations, including Long Island, New York City Metro, Eastern Lake Ontario, Central New York, and Western New York, are under a health advisory due to poor air quality.
Despite admitting she is not a climate specialist, Jean-Pierre used the rare chance to promote Biden's legislative agenda of so-called climate policies.
"[It's] yet another alarming example of the ways in which the climate crisis is disturbing our lives and our communities," Jean-Pierre said during the White House press briefing.
"The west coast has dealt with this for some time."
"So, this is not uncommon, sadly. It's only getting worse," the continued. "But this is why the president has made climate change a priority. This is why he has taken these aggressive actions."
Instead of sending federal resources to protect vulnerable communities, like those respiratory and heart diseases, the Biden administration is just going to blame us and anyone who uses fossil fuels.
That's not just harebrained, it's a dereliction of duty.
Stay tuned to Prudent Politics.