Surprise Biden admin report sends White House into lockdown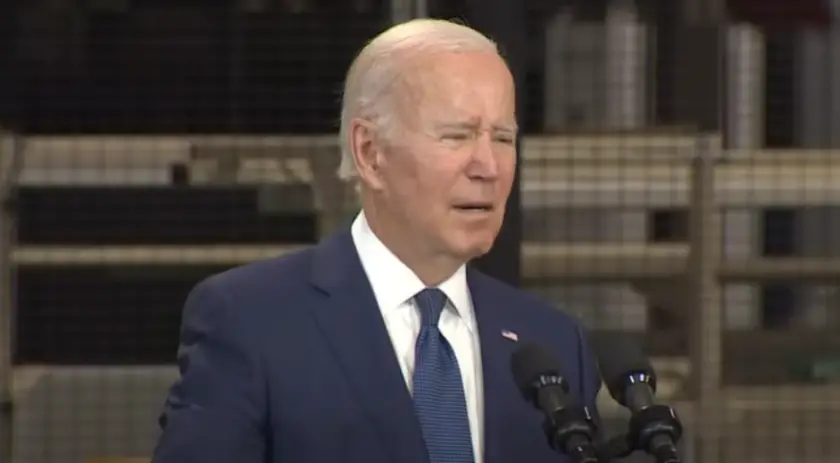 Joe Biden's presidency is already a dumpster fire. This is the last thing he needed to hear.
And this surprise Biden admin report sent the White House into lockdown.
Joe Biden has lost so many officials in his cabinet that it's hard to keep track.
Sam Brinton, the cross-dressing "non-binary" nuclear energy appointment is probably the most high profile loss as he was charged with multiple counts of felony theft.
But another name is starting to make headlines and it has the Biden administration worried sick.
The acting director of US Immigration and Customs Enforcement (ICE) is prepared to resign after more than two years in the position in the absence of a permanent head being confirmed, according to the Washington Examiner.
Tae Johnson, a 28-year federal immigration officer, will step down as Deputy Director of ICE in the coming weeks after heading the federal agency for two years and three months since President Joe Biden took office in January 2021.
Following publication, ICE sent a statement to the Washington Examiner that addressed Johnson's employment but did not explicitly dispute that he was intending to retire.
"Rumors surrounding the retirement of Acting ICE Director Tae Johnson are just that. Acting Director Johnson has not announced plans to retire," ICE spokeswoman Jenny Burke wrote in an email.
"He will continue leading the men and women of this agency with the same integrity and commitment that he has demonstrated throughout his entire career."
The departure of the agency's director more than midway through President Joe Biden's term will extend the agency's five-year span without a confirmed leader — all while Congress seeks to change border security and immigration laws that affect ICE's work.
ICE has not announced Johnson's leaving date or who will succeed him, though it is possible that the next-in-line senior official handling the tasks of the deputy director, Patrick J. Lechleitner, may take over. Johnson planned to retire in late April, according to two persons acquainted with his impending departure, who informed the Washington Examiner late last week.
Johnson was the ninth acting head of ICE in the previous five years.
Johnson was set to testify before the House Appropriations Subcommittee on Homeland Security on Tuesday morning regarding the agency's fiscal 2024 budget requirements.
Biden had proposed a Houston sheriff to command ICE in April 2021. However, after claims of domestic abuse, Harris County Sheriff Ed Gonzalez withdrew his name from consideration by the Senate in July 2022. Since Gonzalez, Biden has not nominated anyone else.
More than a half-dozen individuals commanded ICE in temporary capacity under the Trump administration, and this has continued under Biden.
Jonathan Fahey, a former criminal prosecutor, was two weeks into his post temporarily heading ICE in early January 2021 when he stepped down a week before Trump left office. Johnson, Fahey's deputy, was named acting director.
Biden took office amid calls from progressive Democrats to disband the agency tasked with enforcing immigration rules passed by Congress.
Biden immediately halted deportations, and his government promptly changed rules for determining whether illegal immigrants in the United States could be arrested and deported.
Arrests and deportations of illegal immigrants fell more than 75% in fiscal 2021, which began in September 2020, compared to the record-high levels witnessed during the Obama administration.
From October 2020 to September 2021, ICE detained 59,011 noncitizens, with the majority falling under the Biden administration's stricter criteria for who may be detained. Nearly 400,000 noncitizens were deported in 2011, a figure that was reduced by 85% under Biden.
ICE has also decided to avoid detaining illegal immigrants in government facilities during court proceedings.
This year, the Biden administration has requested funding for 25,000 detention beds, despite the fact that over the last two years, more than 5 million people have been encountered illegally entering the country, with more than half of them being released and either digitally or not at all tracked.
Stay tuned to Prudent Politics.